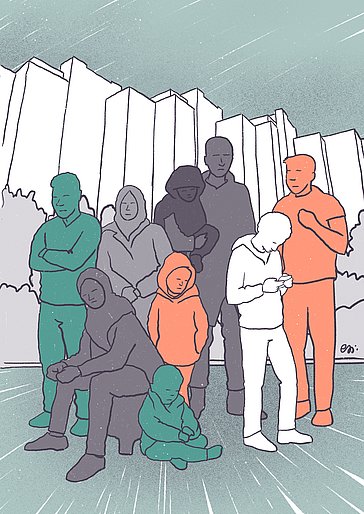 Lured back
Samir Ayadi: Morocco – Turkey and once across Europe – Germany – Morocco
Samir Ayadi* comes from north-eastern Morocco. He got married in 2010, soon became a father and tried to make ends meet with his family. But it did not work out.
The money was never enough and there was only occasional work. Samir began looking for other solutions and started selling drugs. But that quickly became too dangerous for him. He knew he had to find some other way of making money. So he decided to go to Europe. To earn money, but also to finish his studies, which he had to abandon in Morocco after only one year.
Shattered hopes in Germany
In December 2015, Samir took a direct flight from Tangier to Istanbul, leaving his wife and two children behind. His journey took him in a barely seaworthy boat from Izmir to the Greek island of Lesbos and from there to France via Macedonia, Slovenia, Serbia, Croatia and Italy. There he survived for three years without papers working at odd jobs; the prospects of a legal residence permit were poor. He wanted to try Germany. He arrived here in winter 2018 and found a place to stay with a relative. Eventually he registered with the authorities in charge and shortly afterwards moved to a reception centre for refugees in Bonn. It became increasingly clear that Samir, just like in France, had little chance of establishing legal residence and receiving a work permit in Germany. He buried his hopes of studying for good. The thought of his family made him despair, as he had not been able to pay their living expenses from afar for almost four years.
At the reception centre, a friend advised him to look into "voluntary return and reintegration programmes". Samir was impressed by the opportunities offered to him and decided to make a new start in Morocco. Through cooperation between the German reintegration programme and the Moroccan employment agency ANAPEC, he was assured he would be provided with an orientation in the labour market as well as guidance and support in setting up a small business. Even in view of the Covid-19 pandemic and its effects on the already difficult Moroccan labour market, the comprehensive reintegration measure that was promised seemed like the solution he had been longing for. Soon, he thought, he would be able to secure his family's livelihood.
Bitter realities in Morocco
In February 2019, his application to return was approved and he received a laissez-passé document to cross the border without any problem. Still in Düsseldorf, he received 1,500 Euro in start-up money on the day of his departure. He was full of hope. But when Samir arrived at Mohammed V International Airport in Casablanca, he was intercepted by the border police. For three days he was detained and interrogated, mostly about why he was in Germany illegally. Samir was shocked, but he also had no contact numbers for the German authorities, who had promised him problem-free entry to Morocco in Düsseldorf. Later he learned that "voluntary" repatriations are often not support or communicated. Neither local NGOs nor Moroccan authorities are informed.
After his release from custody, Samir tried in vain to obtain the promised second instalment of 1,000 Euro. Pledges to place him in a job or to support him in setting up a livelihood also vanished into thin air; he did not even receive any more information. Samir explains that it was difficult to complain to anyone because of the Covid-19 contact restrictions and limitations. He tried the Moroccan-German Information Office for Migration and Professional Integration (EIMA) in Oujda, but received no reply. He had the feeling of being left with nothing once again. "I guess the main thing is that we sign the paper to return at any cost." In the meantime, Samir – without the promised support – has found the odd casual job: He has worked as a temp in a bakery, and now and then he is able to do jobs as a painter. But it is not enough to live on. How does he think he can make a living for himself and his family? Samir is definitely considering risking the dangerous path to Europe once again.
*The names have been changed by the editors.