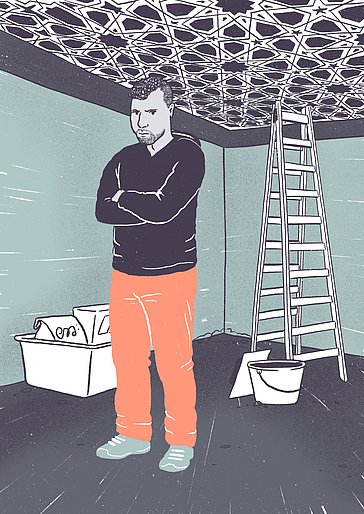 Unfulfilled promises
Benyounes Khattabi: Morocco - Spain - Belgium - Holland - Germany - Morocco
Benyounes Khattabi* was young when he gave up his dreams of a future in his own country. He grew up in the north of Morocco, where youth unemployment is high. In 2011 calls for social justice were mounting and protests against the government began.
There were nine persons in his household, and he wanted and needed to support his family. Although he had already completed two handicraft apprenticeships, he searched in vain for work. It appeared impossible to achieve an economically stable situation. When Benyounes decided to leave Morocco by boat in the summer of 2014, he was 25 years old and wanted to finally take the future into his own hands. After arriving in Spain, he attempted to find work. But he lacked the proper papers, making the search difficult, and so six months later he travelled on to Belgium, where he tried to establish a livelihood and clarify his residence situation. After running the gauntlet of institutions there, he arrived in Germany years later via Holland.
The temptation of reintegration
In Bonn, he wanted to secure his status, this time with the support of a lawyer. But his chances were poor. So he finally went to a return counselling centre. There he was told that he would receive support in setting up his own business in Morocco. And that's not all: after a thorough individual review, he was assured that he would receive financial support in the amount of 1,500 Euro at the airport before his return. In addition, prospects were held out of a second instalment of 1,000 Euro after his arrival in Morocco and he was told his rent payments could be paid in full or in part for up to 18 months. In addition, he was promised help with legal proceedings still pending in Morocco, especially regarding the payment of an outstanding fine. This gave Benyounes new hope. He no longer felt alone and agreed to return, even though it felt like a step backwards. He believed that his long search for a secure future would now materialise in his homeland after all.
Help back in Morocco? Nothing
In February 2019, he received his "one-way ticket" and the necessary laissez-passé document to ensure his entry into Morocco without complications and, if necessary, help and protection. While still in Germany, he received the promised 1,500 Euro in start-up aid. Upon his arrival at Mohammed V airport in Casablanca, however, the young Moroccan was arrested directly by the police. His documents offered him no protection. Just a routine check, said the officers. After three days in custody, they let him go. But things did not get much better. He tried in vain to receive the second instalment of return assistance. Faced with Covid 19 precautions and his own quarantine, however, he was only able to contact the IOM office in Rabat by phone. He was told that he should be patient, and that they were working on the matter. Benyounes enquired many more times. After six months, he was told that his file had been closed for some time and that the deadline for receiving the second instalment had expired. The same was the case with the assistance, guidance and support for his business start-up: He was told that his claim had expired. "Although I was able to produce all the relevant papers, no promise was kept," he complains bitterly. And, not surprisingly, he was also left in the lurch regarding the court proceedings and outstanding fine. "I really believed that I had a future thanks to the return programme in Morocco, that's why I went back. But apart from the start-up money, no promise has been kept." He feels like he is going around in circles: After many long arduous years, he is back at square one with nothing to show for it.
* The names have been changed by the editors.