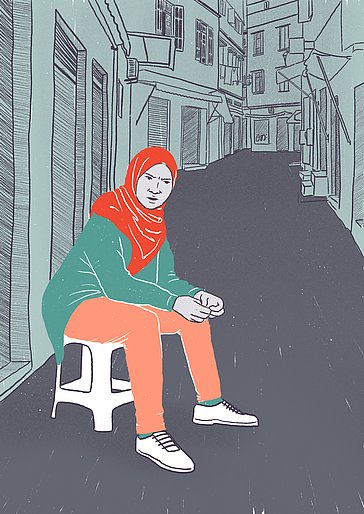 A wasted life
Latifa Saouf: Morocco - Turkey - Germany - Morocco
Latifa Saouf* came to Germany in 2015. Before that, she had spent more than three years in Turkey. When she had scraped together some money, she moved on to Greece, where she experienced the brutality of the police and military in full force at the land border.
The young woman spent many days gripped with fear in the freezing cold of the border region. She lost her bag with warm clothes and all her important documents. But she finally made it to her destination, to Germany. A friend had told her that she could learn the hairdressing trade here and find work. "I fought day and night and risked my life for this dream."
No chance to get papers
In Germany, she looked around to find out what possibilities she had. She remained patient and even enrolled in a German language course. But after more than three years, she had to throw in the towel and admit that her search for a new life, for work and a secure status was a failure. In 2019, Latifa finally gave up her dreams and signed the application for "voluntary" return to Morocco. She said she no longer knew how to stay on a secure basis. She could not afford legal aid, and she was not aware of any free services. She was not well physically, either. At the same time, Latifa feels that her return to Morocco is "unfair". After all the hardships and risks she endured, she feels like she was "sent back". Nonetheless: the return counselling service in Düsseldorf assured her that they would support her with her job plans after her arrival.
Before her departure, she received a start-up grant of 1,500 Euro at the airport. After that, assistance through the reintegration programme is limited to counselling sessions on training paths to become a hairdresser. She also takes part in reintegration workshops organised by the Deutsche Gesellschaft für internationale Zusammenarbeit (GIZ). The Office for Vocational Training and Employment Promotion (OFPPT), the National Employment Agency (ANAPEC) and Entraide Nationale (EA, an agency under the Moroccan Ministry of Family and Social Affairs) also send staff to these workshops. "Like many other people, I was assured that more financial support would be forthcoming; we were told we would have to be patient for a while. But we never received anything more than this assurance."
Shortly after her arrival in Morocco, the German-Moroccan Migration Counselling Centre (affiliated with ANAPEC and in cooperation with GIZ) opened in Casablanca. One of its tasks is to promote the reintegration of returnees into Moroccan society. This is supposed to be based on preparations for return that took place before leaving Germany. But for Latifa, the counselling does not help her build an independent existence. She is disappointed: "Nothing happened. It was all empty words and promises." She draws a bleak balance sheet on it all: "I didn't receive any financial support from any authority or organisation after I returned."
Set off again?
Since her return, Latifa has been living in a working-class neighbourhood of Casablanca. She spends her days at home or at a friend's hair salon. She is not doing well. She cannot find work and her social contacts are not showing much understanding for her plight: "I suffer from the widespread view that returning is a sign of failure. Some people reproach me for coming back. But they just don't know how it feels to be unwelcome." The pressure of society and lack of prospects are what made her decide to try again: "Returning to Morocco is like wasting my life. Migration seems to be the only way to realise my dreams. What other choice do I have?"
* The names have been changed by the editors.