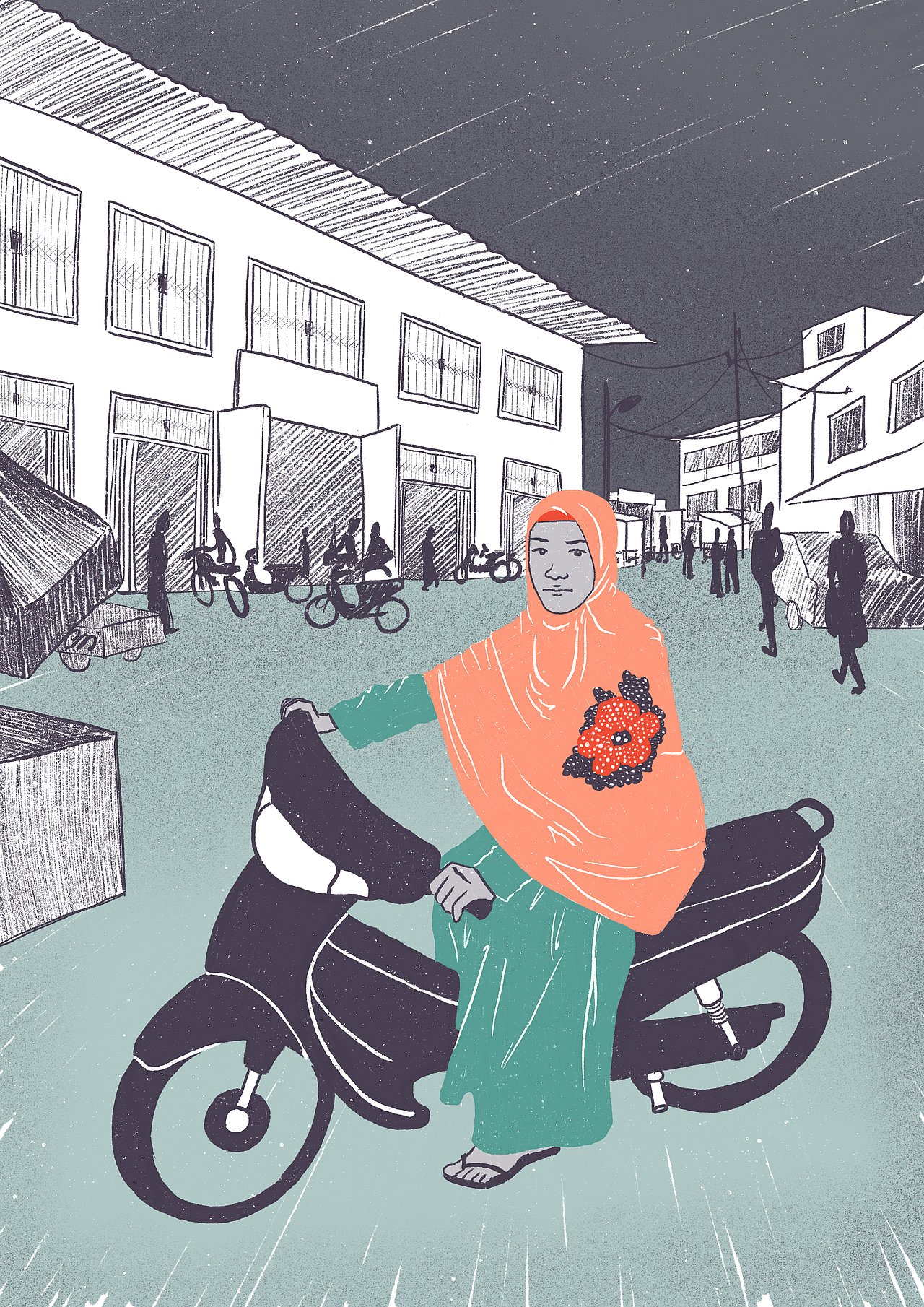 Prison or return
Amoya Dassie: Mali – Libya – Mali
Amoya Dassie* remembers her time in prison in Libya very well. She tells about rotten food, the fear experienced by her two children and the many women who were crammed so closely together. When she was given the chance to leave Libya and return to Mali through an official channel, she did not hesitate. "I did not return to Mali 'voluntarily'. It was the only way out of prison for me and my children."
A good start
Amoya is originally from Côte d'Ivoire, but lived for a long time in Mali, where she also met her husband Ibrahim. In 2011, she followed him to Tripoli. She also wanted to find work there and take her future into her own hands. Many West Africans live in Libya, but it is difficult to get food from West Africa. That is why Amoya buys and sells peanut butter, palm oil and spices. She also cleans the flats of Libya's middle class. And she gave birth to two children there. Her husband Ibrahim is smart, she says. The businessman buys and sells clothes and shoes for children in Tripoli. He also takes the children from the neighbourhood to school and picks them up after school. "That was fine, we got by like that," Amoya recalls. But then the head of state, Muammar al-Gaddafi, died and many things changed: everyday life became unsafe, there was unrest in large parts of the country, the police and militias were ready to use violence.
In custody, for no reason
One night, police units stormed the family's small flat in Tripoli. Amoya did not immediately understand what it was all about. The police accused Ibrahim of drug trafficking. It soon turned out to be a case of mistaken identity. But just one month later, the policemen suddenly returned. They took anything and everything of value. Once again, Ibrahim was accused of drug trafficking. The whole family including the two children were sent to a kind of prison, Amoya called it a torture building. For a week, the police tried to beat information out of Ibrahim. Every day Amoya and the children heard his screams. The policemen demanded money. But they didn't have enough, so the whole family was taken to another prison. The Malian embassy, to which Ibrahim is known as a businessman, intervened. Nevertheless, the family remained in custody for the time being. A few times, staff members of the International Organisation for Migration (IOM) came and handed out soap or medicine to the sick. There was no other help, not even access to a telephone. About once a month, Amoya and the children were able to see Ibrahim, who was quartered in the men's wing.
After months, the Malian embassy finally got in touch and said that it could not intervene in the affairs of the Libyan police. The only way they could help was by issuing a laissez passé, a one-time border crossing document. This would make repatriation to Mali possible. Amoya accepted immediately. At the end of 2017, Amoya and her family were brought to Mali with the support of the IOM. On arrival in Bamako, they received FCFA 52,000 (about 80 Euro) in pocket money. The IOM also informed them that she could submit an application and present a business idea within the next three months. Only if they promised to stay in Mali and not to leave again for Libya or Europe, however. "We decided to stay and applied for support from the IOM to open a food shop on the outskirts of Bamako. But we came under pressure quickly after we arrived. Because when you come back, all your friends and acquaintances want money from you."
Lengthy waiting and the wrong help
To push through their application, Amoya and Ibrahim travelled to the IOM office repeatedly over the space of a year. Finally, they had to borrow money from friends for rent, school fees and bus fares. "All the promises from IOM and no answers to our questions. The beatings in prison left my husband extremely traumatised. We noticed that in our daily lives." Despite everything, they did not let themselves be dissuaded from their plans. One year after their arrival in Mali, they finally received the support promised by the IOM for their business project. However, it was not in the form of money. Instead, food was delivered, some of which has already expired. The support from the IOM is neither appropriate nor is it sufficient to develop a shop business. Added to all this was the high level of debt they had incurred during the year of waiting. After Ibrahim opened the shop, everyone wanted their money back. On top of all this, both Amoya and her eldest son fell ill. In their plight, the families found help from the civil society organisation Association Malienne des Expulsés (AME), which campaigns for the rights of destitute returnees. Thanks to their support, Amoya and Ibrahim have been able to pay outstanding medical bills. But the AME's funds are not enough to build sound prospects for the future. So how can they carry on? "I am young and will try everything I can to earn some money for my children," says Amoya. "I hope very much that they will get a good education and find a job one day."
* The names have been changed by the editors.