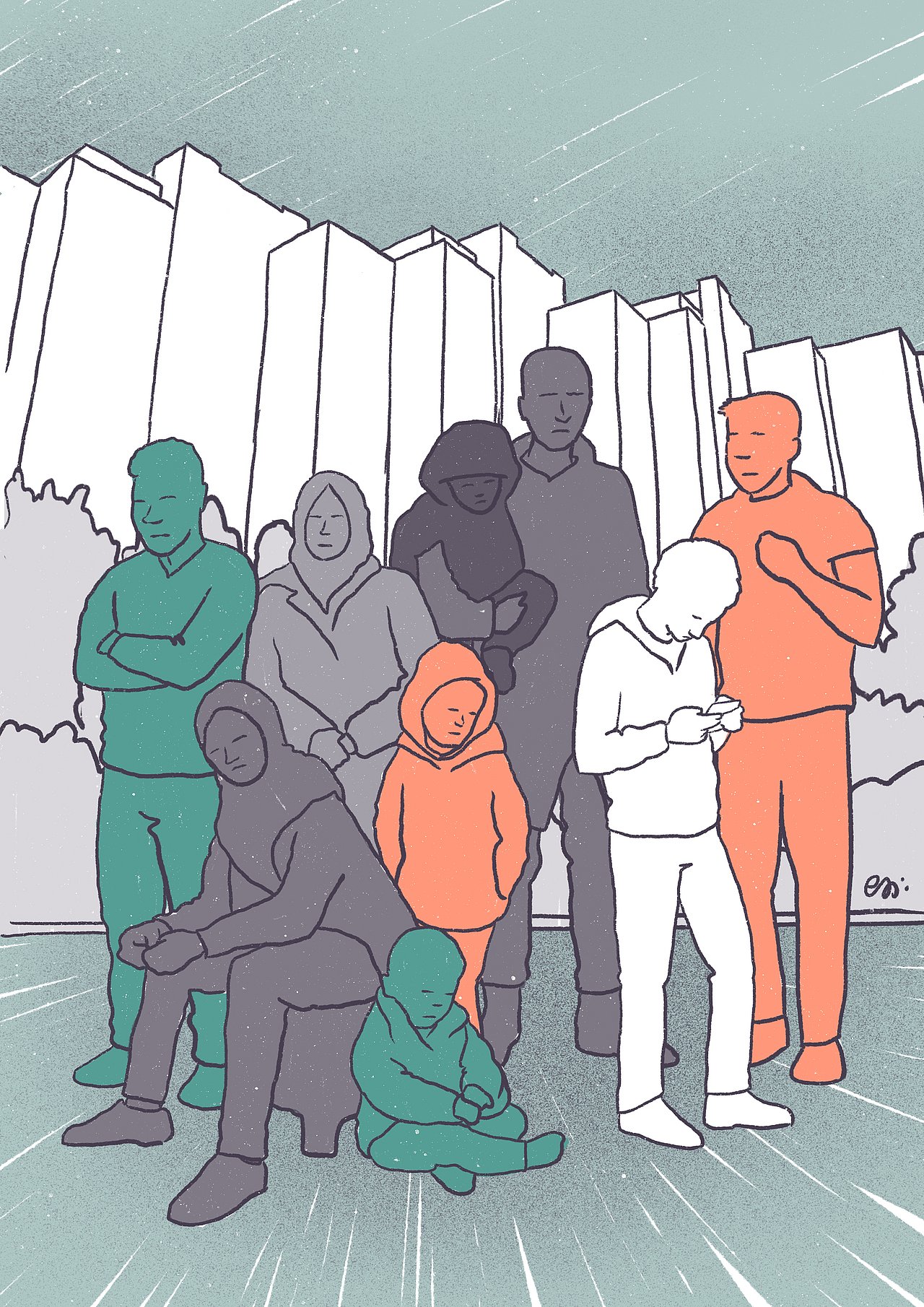 Suddenly deported after all
Samuel Tosin Ayokunnumi: Nigeria – Germany – Nigeria
Desperate, Samuel Tosin Ayokunnumi sends a voice message from a prison cell to his return counsellor: "Hello, I was sleeping at home, I am actually in a cell right now, they will be transporting me to Munich and on to Nigeria. Is this the organization? Is this how they do it, how they treat people? I tried to explain to the police, I am not done with my course. They said I should pack my things. Is this how it works? Because I am confused. Wow."
Samuel was living at a shelter in Aschau in southern Germany. One night, a knock on the door woke him up. When he opened the door, five policemen were standing in front of him, shouting "hands up!" They showed him a letter from the district office stating that he was being deported. The deportation was brutal. They led him away with cable ties. He was only allowed to take them off after seven hours. At the airport he had to strip down to his underwear. Again and again he tried to explain that he was taking part in a return programme and therefore could not be deported. He had decided to return to Nigeria some time ago because he wanted to avoid violent deportation. But nobody listened to him.
Only because activists took up the case do we now know that Samuel's deportation was not legal. This is by no means an isolated case, according to the support network. There have been a number of other cases of unlawful deportations of people who were in the process of preparing for a "voluntary return". According to a report by Bayrischer Rundfunk, the chartered plane used to deport a total of 43 people on 10 December 2020 also carried Samuel and another person who was officially registered in a return programme.
Mistake by the authorities, arbitrariness by the authorities
Activist Astrid Schreiber reports: "Samuel was always as cooperative as possible. He had been working and soon after the legally binding rejection of his asylum application, he handed in his passport to the immigration authorities as he was required to do, and went to the return counselling centre." There he signed a return agreement and was placed in the business start-up programme "StartHope@Home", run by Social Impact, a company supported by the Deutsche Gesellschaft für Internationale Zusammenarbeit (GIZ). It was in this context that he attended preparatory workshops to support him in his business plans. Back in Nigeria, he was to receive additional support and be assisted in the implementation. Although the immigration authorities knew that Samuel was taking part in the programme - he was in constant contact with his case worker there - they ordered his deportation. Neither the return counselling nor Social Impact gGmbH nor Samuel himself were informed about this. Why? The Bavarian Ministry of the Interior replied to activists from Migrationssolidarität investigating the case that they regretted what had happened. They said it was due to a lack of communication between the authorities - a serious error on the part of the authorities that permanently dashed Samuel's plans for the future.
A returnee on a deportation flight
Samuel was convinced that he would be leaving the country on his own with "Perspektive Heimat". He therefore did not become suspicious when he was asked to take a Covid test at the immigration office. On that day, he had still met his case worker from the immigration authorities, who knew about the impending deportation, but remained silent. The request for the test should also have been understood by the return counsellor as an indication that something was wrong, as no one else from the shelter was tested. When a negative text result was obtained, the last barrier to deportation was surmounted.
Now Samuel is in Nigeria without the financial support he had been promised. He is in contact with a group of committed people in Germany who are working to bring to light the arbitrary treatment he received at the hands of the authorities. Rex Osa from refugees4refugees is one of the activists who is fighting with Samuel against the arbitrariness of the German authorities. He asserts: "Deportation flights are filled with people like Samuel."